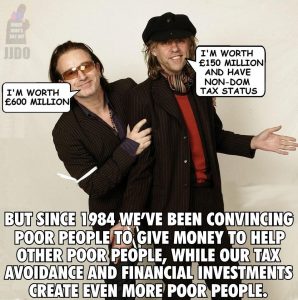 A top-of-the-morning cunting to that old Oirish queen Geldoff, elderly former pop-singer who arises from his coffin from time to time to hold forth on matters dear to his wallet. By the look on his face he has recently sniffed Anal-ease Dodd's shit stained bloomers. This time it is the Foreign Aid Budget, which is rightly due to be pruned:
https://www.express.co.uk/news/politics/1363115/Foreign-aid-budget-cut-bob-geldof-boris-johnson-rishi-sunak-aid-budget
"Orders" you notice – as does gurning nerd Bill Gates, who has a personal fortune estimated to be well over $100 billion. If these rich cunts are so philanthropic, why don't they open their wallets instead of their big sanctimonious mouths.
Nominated by: W. C. Boggs