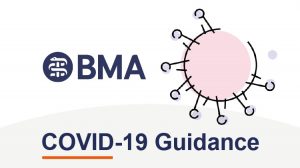 Cough and say "ahh" please for a cunting for the British Medical Association, who Whitty-like, has been stirring up the scare stories about Covid 19 today, now breathlessly demanding "face coverings" (face nappies) for every working environment, unless you work solo.
They had some self important old tart and a parking stanley rep of the BMA on Wireless 4 PM just now, and of course they are lapping it up. Like a pair of old maids, scaring each other with stories about a dangerous rapist on the loose, both the BMA/BBC were really wheeling out the hyperbole, tempered with that faux concerned tone of voice..
Of course, the fact that many people will be travelling on buses and trains where the ignorant fuckers will be wearing their nappies as chinstraps never even crosses their minds…..
Nominated by: W. C. Boggs