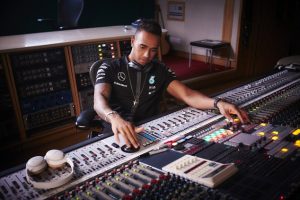 Who needs a laugh in these dark dark times, uba cunt extraordinaire Lewis the cunt Hamilton world champion of cunts has decided to bless us all with with the ear fucking of a life time.
This fucking bell end of a cunt has decided to take a foray into the music industry and is on the verge of a debut album to torcher us all with, if watching the wanker making a cunt of himself regularly we now have to here all the bullshit that he is about to elaculate into the airwaves.
Strongly suspect its just going to be rehashed bollocks with slightly different lyrics [if you can call them that] the that cunt with the woolly bullet on his head Craig David, it was the only good thing Bo Selecta ever did was use that talentless prick for piss taking material.
Anyway i'm sure Lewis the cunt wont disappoint if piss taking material is required……he is the Formula 1 of cunts
Nominated by: Fuglyucker