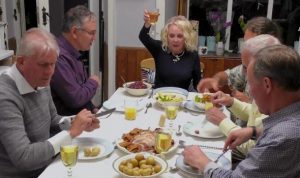 I've just watched a programme 'Five Guys A Week' where 5 men were vying for a woman's affections over a week.
All five contenders agreed they were middle class. Except one. He said he was working class. There was a blanket shunning of him after that. How out of place he was. Pathetically at one point looking round for someone to talk to and there was no-one.
Reminding me of Joe in Great Expectations trying to fit in with Pip's new friends. Dickens captures the clash of classes brilliantly. Anyway he stuck it for a night but the very next morning he made his apologies to the woman and scarpered.
When he was gone no-one directly referred to his class but you could tell they knew that was the reason he had left.
There's a great debate about 'inclusion' regarding race and gender in our society. But the real discrimination or distinction is and always has been class isn't it? We all know growing up in England that we are in some way hermetically sealed in our own class. And more importantly can be identified by some mysterious sixth sense the English have. That's why I have never really believed in 'social mobility' or 'becoming middle class'.
How accurate that TW3 sketch with John Cleese, Ronnie Barker, Corbett is. Ronnie C repeating 'I know my place'. But the truth of the class system is every one 'knows their place'
Getting back to great expectations. I suppose to be compatible you have to have the same expectations. That word was used a great deal in the programme. I thought at one point Charlotte (the woman) was going to exclaim like Pip 'I have great expectations!'. She quizzed the men all week about their expectations. And her parents as well when they came to look them over- 'what are your expectations?' wiill you be able to fulfill her expectations?'
I would like to say here Charlotte was cold like Estella but she wasn't really. She was nice enough.
There was little humour in any of them. Certainly no fun like you would get with a group of working class people.
Maybe it was just boring bunch. But I seem to have met them somewhere before. Yes there was the doctor's sons from over the way I felt uncomfortable with growing up. Not snobbery or anything just I couldnt get anything out of them. Different interests I suppose. But the truth they weren't really interested in anything other than schoolwork, getting on.
My ex-brother in law comes to mind. He went to a private school. But once again there was nothing in him. We talked sports. I cannot think of his political views. He wasn't passionate about anything.
I don't know but I like rough and ready working' class people. They famously don't have 'Great Expectations'. And maybe that's a good thing.
The message of Great Expectations of course- don't pretend who you are not. But I think a lot of the middle class ARE pretending. It's the class that pretends. In that sense the upper class and working class are freer. Middle class people are too preoccupied with their expectations. It's too comfortable. It is better to expect the unexpected.
What is the word I am looking for regarding them? Tepid or lukewarm or something.. Or they're not human enough.
Just my experience.
I must read Great Expectations again
Nominated by: Miles Plastic .