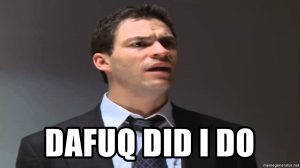 Once again, I find myself having to nominate the left, particularly luvvies. As we've all heard by now, Trump has been visited by Flu Manchu and the left, with depressing inevitability, are celebrating. Dominic West, that public school educated twat who starred in the Wire, told Kate Garraway, a woman whose husband has been suffering with it for months, that he "jumped for joy" when he heard the news. How's that for being an ignorant, insensitive prick? Unconfirmed reports also claim that he asked his wife if he could he give her boyfriend a celebratory blowjob.
As with those far left scum who celebrated the passing of Margaret Thatcher, I find the actions of these window licking mouth breathers utterly disgusting. They are filth. They are shit on the pavement. They are living proof that some people are born anally. I don't like Trump, and to be honest, I'm not in the least surprised that he's caught it. But I do feel sorry for him and his family and I wish him a speedy recover. He does wind up the far left better than anyone else though, and that amuses me. The left have NO redeeming features. And, as always, they are hypocrites. These are the same people who preach to the rest of us about the importance of tolerance and being kind to others, but never practice either of those.
The left, especially luvvies, are the lowest form of life on planet Earth. And a bunch of complete and utter cunts.
Nominated by: Quick Draw McGraw
and seconded by: Captain Ian Douglas Van Der Byl Quimson 
Dominic West
Emergency cunting for the first person to admit that they are glad POTUS has become infected with Covid, I imagine the joy he felt was only equal to my own joy that "The Wire" was cancelled starring this cunt, I'm sure that fellow cunts in Hollywoke may pat him on the back for a while, but to wish illness upon someone because you disagree with their policy and world view is as low as you can go, even for this Fred West impersonator, Dominic West you are a nasty evil cunt of the first water for this admission!!!
P.S
He looked stupid playing Fred West has he was a lot bigger than him, but he was excellent in Appropriate Adult I must begrudgingly admit!!!!