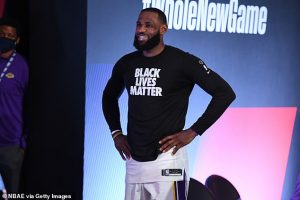 6' 8" fucking freak who has made a fortune from basketball (gimme the ball I just have to reach up and pop it in you short arsed cunts) Not satisfied with being paid a cuntload of dollars for being a human giraffe this wanker has to cry about the poor oppressed black people who he wouldn't go near unless he was after a bit of cheap black pussy.
His latest stunt is for him and his mates to turn up on court wearing Gaylord lacy white collars in memory of recently deceased libtard judge, Ruth Bader-Meinhoff or whatever her fucking name was. You look like a cunt, talk like a cunt so fuck off cunt. I'm sick of multi millionaire sports cunts and two bob slebs telling me what to do and what to think. Take your money, be grateful for it and stop lecturing me you fucking arseholes!
Nominated by: Freddie the Frog
(What LeBron chooses to forget – DA https://www.dailymail.co.uk/news/article-8728829/Candace-Owens-blames-pea-brained-LeBron-James-BLM-ambush-LA-sheriffs.html)
..and doubled up by Captain Magnanimous
Lebron James is a cunt, isn't he
Who's this car-jacking thug and what crime did he commit? Well, he is both a basketball player and a cunt although I'm not sure if he's a Goal Attack or Goal Defence.
Apart from bouncing netballs on a wooden floor for a living, this mook likes to sound off about social issues regarding black issues and bad cops, maan, while kneeling before every netball match. He's the Lewis Hamilton of the Basketball world.
After two officers were recently shot in their car, donations poured in to set a reward leading to the arrest of the (uncaught) culprit. The L.A. County Sheriff publicly challenged the wealthy James to match the same amount of money as the reward. James didn't respond.
However, he has dipped into his deep pockets for another cause: He's offered to pay off felons' fines and fees in order that they can vote (for Biden) in the forthcoming election. Riiight. Ignore aiding the police but help convicted criminals.
Basketball is a silly, childish sport, a jumping game invented for people too stupid or awkward to play football. It's about as exciting as watching rugby or a Hilary Benn speech and even duller than baseball or Yank football. This gangly multi-millionaire bigot is the last person to whine about being oppressed or deprived and when he isnt 'taking the knee' before playing games he's taking a reach-around from Barack O'bomber.
?
Take it to the hoop, you Slam dunk cunt.