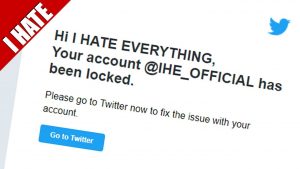 Twitter – the online propaganda wing of the hateful dictatorial racist left.
A random one but I had to do this – I went on twitter briefly and asked gippo Branson why he felt it morally acceptable that a Man with so much money he can afford his own island and space programme can spend all his life avoiding taxes and then come running to the UK Government for a bailout (which the little c*nt got, BTW) – blocked.
I asked Rebecca Bongs-Daily to explain the benefits of communism to the 100 Million people it killed in the 20th Century – blocked.
Katie Hopkins barred, Tommy Robinson barred – free speech appears to be fine provided there is no free speech for some.
Closing down dissent and truth – a disturbing reminder of Nazi Germany, of Stalinist Russia, the killing fields of Cambodia, the oppression and brutality in North Korea – a warning from the past about our present.
And to teach twitter the lesson it deserves I have joined Parler and have three followers (that will tech them for being mean to me!😄) – the revolution starts here, because twitter is a CUNT!
Nominated by: Vernon Fox