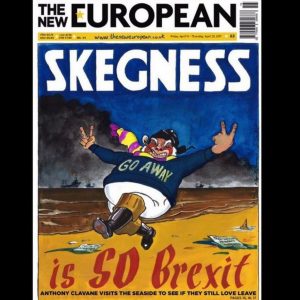 Hold the front page and stand by for some frightfully important news.
There have been some pointless publications in the past "Gardening With MIndfullness" (I kid you not), The Radio Times (each weekend when the schedule is nothing like they print), Hello, The Psychic News ("Good but not as good as next weeks issue), but surely the prize for the most risible, the most pointless wasre of trees – even more so than the Gemma Collins Bumper Book Of Diets, has to be "The New European" – I have cunted this "newspaper" once before, but this struggling tabloid (£3 an issue for those with more money than sense) has hit a new low, with their current buy-me-and-stop-one promotion offering you a "Remainer Passport Holder":
https://www.subscriptionsave.co.uk/Newspapers/National-Newspapers/The-New-European/LTNSUM20
For fucks sake!. The snobbish holier-than-thou, I-am-more-intelligent-than-you motherfuckers who look down their North London noses at us common people don't seem to have graspe that, legally, at least, we have already left the fucking EU.
Why don't the publishers swallow theirpride and close this shitty rag down. If it does turn a prpfit, I'd like to know how so I could start up an equally fatuous paper like Flat Earth News.
Nominated by: W. C. Boggs