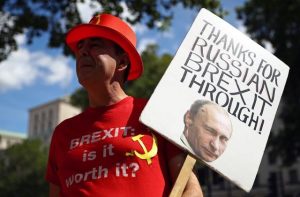 A long awaited cunting for the long awaited Russia report, after listening to the review by an SNP cunt and Labour cunt I thought what the fuck was it all about.
Firstly it was written Dominic (scabby chin) Grieve so you would expect that it would be a 'smoking gun' but sadly (for him) there wasn't anything to suggest that Russia had any significant influence in the 2016 referendum.
The conclusion nothing was found because nobody looked, what! are they having a laugh, they assume it was there because it was in the Scottish referendum.
So the interference was probably there, maybe, perhaps, but it's impossible to say if it had any effect.
The whole thing was put together to try to cast doubt on the 2016 result but as there was 'nothing to see here' they wrote a whole load of shite that was fucking obvious the deaf dumb and blind.
Social media, yes we all know about that, Russian bots
Influence in the Lords, well just scrap the old cunts, that will sort it out.
Money laundering in Londoningrad, fuck me that isn't news it's been going on for years,
Spies in the UK, bloody hell, everyone knows that half the embassy staff of virtually every country are actually spies and don't tell me some of our embassy staff in other countries aren't spies.
Cyber security, anyone who uses the internet is aware of 'illicit activity'
Interference in elections, well I would be more concerned about the doggy postal vote racket, particularly in the peaceful community.
Russian criminals, yep along with Albanian, Jamaican, Romanian, the list goes on so why single out Russia.
RT today, if it has broken broadcasting rules take away its licence, no evidence, well leave them alone, the media in general is left so not really 'impartial'
The cunts on the security and intelligence committee have tried to make the fucking Beano into a best seller, what a waste of time!
Nominated by: Sick of it
(In case you missed it – admin https://www.politico.eu/article/mps-russia-report-says-uk-left-brexit-referendum-open-to-kremlin-meddling/ )