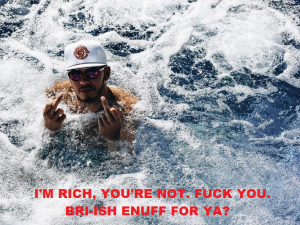 A quick, 11 second pitstop cunting for Lewis Hamilton.
He is on the front page of the Times today:-
'Why am I not British enough?' The subtext being – because I is black.
Perhaps being a millionaire tax exile in Monaco might have something to do with it. And of course jumping on the Bullshit Lives Matter bandwagon. From a distance. And being an all round cunt.
Nominated by: Cuntstable Cuntbubble
And seconded with this:
Lewis Hamilton – yet again!
A high-speed, round and round in circles borefest of a cunting for Lewis Hamilton. I can't believe it is only a few short days since this tool's last cunting, but he is the give who just keeps on giving. His latest wheeze is that he has announced plans to set up a commission in his name to increase diversity in motorsport.
The world champion said he wants the Hamilton Commission to make "real, tangible and measurable change". Oh dear – what a fucking wanker. However, I wasn't able to submit this cunting until I had stopped laughing about this statement:
"Hamilton, 35, said his commission would explore how motorsport can be used "to engage more young people from black backgrounds with science, technology, engineering and maths (STEM) subjects"."
Yes, those giant brained dark keys who are so good at science and even more useless at fucking driving.
Nominated by: Lord Cuntingford