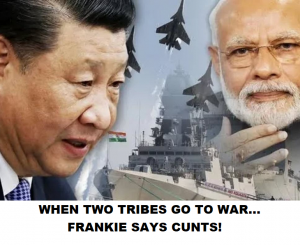 You may have missed it in the national and social media outlets, but things are getting dangerously out of control between China and India, and the disputed territories along their Sino-Indian borders, which stretches some 2,200 miles.
Apparently the Dink military decided to invade Indian-held land in Ladakh during military exercises 2 or 3 weeks ago. There were the inevitable clashes between the armies with some 40 dead on both sides.
China won't back off, claiming that certain Indian-held territory actually belongs to them, and they will fight tooth and nail to get it back.
Despite India having a population of over a billion it is considerably weak militarily against the Dinks, and also fearful of bitter-rivals, Pakistan, joining the dispute and teaming up with China, thus forcing India into a corner.
The US will stand alongside India if the shit hits the fan, especially since it wants to take out bitter vengeance against China because of the Virus.
So basically we're entering another Cold War scenario, albeit in the Far East, and yet no one over here seems to give a shit. The media aren't bothered; Fuckbook and Twatter don't give a damn; and the usual protest groups seem strangely muted. Why is that I wonder?
500,000 people have died from the virus globally, with over 10 million infected; but again the media seem to be growing tired with this old news, even though it started in China.
40 soldiers killed on the Sino-Indian border between two countries containing over 2 billion people. But again no one cares.
1 black bloke in America is killed by a cop and the Western World goes apeshit (can I still say that?)
The sense of priorities by the media is quite staggering, but never fear because when things do escalate and thousands of Dinks & Injuns end up dead, the media will be quick to blame Trump, Boris, and of course the white-man.
Let's have a nuclear war and be done, ffs!
Nominated by: Technocunt