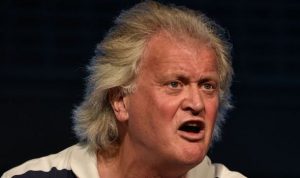 Wetherspoons boss, Tim Martin, reckons that shutting pubs in the current crisis is 'over the top'. Martin told Sky: 'Supermarkets are very, very crowded. Pubs are much less crowded. There's hardly been any transmission of the virus within pubs and I think it's over the top to shut them."
Well, Tim, I think you're a cunt. The Chief Medical Officer has said that pubs are a breeding ground for the virus, bit you reckon there's more danger to be found at the supermarket. Well people have to eat. They don't have to swill beer.
Martin also said that he would take the opportunity to catch the coronavirus under the right conditions, adding: 'If someone offered me the opportunity now to have it under supervised conditions, I think I'd probably take it because your chances are very, very good.'
During the Brexit debate, I read a lot of his stuff and even heard him speak at a Brexit Party rally and he was talking a lot of sense. Now he's talking utter bollocks. So I hope that he gets his wish and catches the virus. Perhaps that might make him take it just a little more seriously.
Nominated by Dioclese