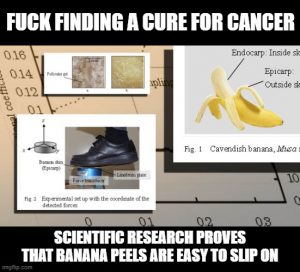 I would like to nominate utterly pointless and wasteful academic research projects. The type of study which adds exactly nothing to the sum of human knowledge, which is clearly self-indulgence and a total waste of time and money.
Some examples:
* The University of Northumbria allowed someone to pursue research on how to brew the perfect cup of tea.
* The department of defence in the USA spent two million dollars on asking an expert to create robots who could play improvised jazz with human musicians. WHY? How does this relate to defending the US from the attacks of Putin and Kim the Wrongun?
* A study of teenage student behaviour concluded, after painstaking research, that kids who spent a lot of time playing computer games
of an evening would have less time to study homework. No shit, Sherlock. Have another bursary; feel free to piss more taxpayers money away.
Other British study projects included research on why cookies crumble, how to make the perfect slice of toast, and why woodpeckers don't get headaches.
This is a bit of a lightweight nom, but when we live in an age where money is desperately needed for real research into fighting disease, seeing people get awarded public money to study the likes of Klingon sonnet writing sends my blood pressure towards fatal levels.
Nominated by Weary&Disgusted