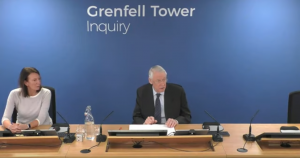 The latest development in the Grenfell Tower Inquiry is that the chairman has backed protection for refurbishment firms giving evidence.
Rather bizarrely, he has backed a request from firms that refurbished the building that evidence they give should not be used against them in criminal prosecutions. Some firms had threatened to stay silent in the inquiry into how Grenfell was covered in flammable cladding. Sir Martin Moore-Bick said he had asked Attorney General Geoffrey Cox for the assurance "as a matter of urgency".
So let's get this right. If by virtue of information given by the aforementioned firms they are found to be negligent or knowingly supplied cladding they knew to breach building guidelines, they cannot be prosecuted, can just walk away, and get off totally Scott free?
Sounds like a good deal for them, I reckon.
What's the fucking point of an inquiry (which has already taken two and-a-half years and already cost the taxpayer in excess of £10m, Phase 2 not expected to finish until April 2021 with more public expenditure) if those firms and directors culpable and responsible for the fire are not being held accountable for their actions? Like most inquiries in recent memory, they take forever, cost the taxpayer an absolute fortune and rarely, if at all, is anyone ever prosecuted.
All we get is the usual "lessons will be learnt" horse shit.
Nominated by Willie Stroker