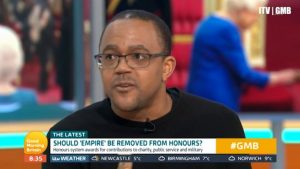 Kehinde Andrews is a racist cunt. This delightful fellow has a record for his anti-white rhetoric. A professor of black studies at Birmingham City University, when he isn't spouting his tripe on TV, he is filling young millennials soft, empty heads with his racist ideals. Another cunt who judges the past on present values.
His most recent outburst is in support of Lisa Nandy's silly proposal to drop the word 'Empire' from MBE, to make it more acceptable to grime 'artists' shit poet cunts, woke sports cunts, and anyone else who has a problem with Britain's white past. In an orchestrated spat with Piers Morgan, Andrews compared the empire to the Nazis. When Piers took him to task on this, Andrews said, "You're right, they don't compare. The empire was far worse and for far longer".
He was also asked, if he hates Britain so much, why not live elsewhere? A brave question in these times, to which he answered that Britain had fucked up most of the world, so no where is immune. I don't know…China, Russia, North Korea or Mexico might be a bit of a change for him. What annoys me most about this knob is that if you substituted the word 'black' instead of 'white', you would end up with a prison sentence.
When asked if they were ok with the hate speech that their employee was preaching, Birmingham City University said that they supported and encouraged him, as free speech is vital, and brought fresh debate to the issue. I wonder how far they are willing to go with free speech? Would they be equally happy to employ Tommy Robinson as professor of White Studies? I think we all know the answer to that. However, since Lawrence Fox has risked life, limb, and definitely career in calling out the anti-white brigade, attitudes appear to be changing, and people are actually standing up against them.
We are always asked to forgive other nations for past events, which we rightly do, so why do we have to suffer for the transgressions of our country's past?
Nominated by Gutstick Japseye