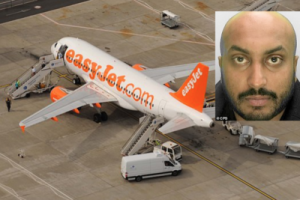 One Rashidul Islam, from culturally enriched Brent, just may not be the sharpest tool in the box.
This is the absolute idiot who in May last year, staged a bomb hoax to try and delay the Morocco-bound flight that he feared he would miss. In an anonymous phone call, he stated that 'EasyJet flight 8897 leaves in 40 minutes. There may be a bomb on board. You need to stop it now'. He followed this up with two further calls, which led to the evacuation of the plane.
The thick-as-pigshit tosspot then turned up late at check-in, and subsequent inquiries revealed that the calls had been made from his mobile phone. At his trial, the cunt made the piss-poor excuse that problems on public transport had led to his actions, and that he couldn't afford another ticket. Unsurprisingly, the judge at Lewes Crown Court was unimpressed by this whining attempt at justification, and handed out a 16-month custodial sentence. Islam was also banned from Gatwick airport.
Naturally an assumption will arise in the public mind that a cultural link can automatically be made between someone named Islam and the notion of planting a bomb on an aircraft. Such an assumption should of course be dismissed as a matter of pure coincidence.
Nominated by Ron Knee