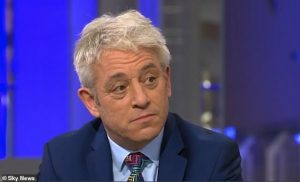 A real "Sunset Boulevard" cunting please, in full Norma Desmond mode, for ageing ex-Speaker Bercow, who is still whinging that he hasn't been elevated to the Lords:
https://www.bbc.co.uk/news/uk-politics-51434470
Yes, he is ready for his close-up, Mr DeMille, but so far, there have been no lights or action. He is being bullied, he says. It is that and anti-Semitism. One man who has accused him of bullying (as if!) is regarded by Bercow as clearly beneath him – a minor irritant to his day to day life many years ago.
The fact that this egregious old cunt is still given time to vent his distress on the BBC in chummy interviews is disgusting. Bercow, I have no doubt, is a bully and a bore, as well as a thoroughly unpleasant arsehole.
The fact that greasy old cunt Dawn Butler, famous for her expenses swindling, is so supportive of his ennoblement tells you it is a terrible idea.
Nominated by W. C. Boggs