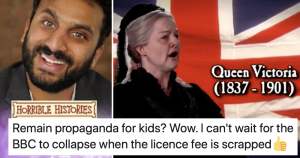 The BBC's decided that it's not been determined enough in it's efforts to make people here and abroad hate the nation, so has gone full on anti-British making an indoctrination film for the kids that's utterly contemptuous of our country and it's peoples intelligence, loathsome of our achievements, and instead paints us as idiots, thieves, slavers, and all round scumbags (probably more, but I could only stand literally a few seconds of this thing before flying into such a rage, I thought boiling piss might erupt through my eye sockets).
Even BBC's Andrew Neil has put his head above the parapet, losing all patience and lambasting this rubbish. Conservative commentator Iain Martin sensibly asks, "Is the BBC on a mission to get itself closed down?"
https://www.express.co.uk/news/uk/1236515/BBC-news-horrible-histories-Andrew-Neil-cbbc-British-UK-Brexit-news
What really fucks me off is these smug twat's depiction of the British as militantly insular, and so ignorant not to know that tea is Chinese. We are the greatest trading nation in the world, that's what our Empire was! Opening up worldwide trade was just one of the things other countries have to thank us for. While idiots ignorant of history paint us as thieves, WE recognise we became rich by trade, and are still trying to impress that fact upon places like Africa to stop bleating and asking for handouts and start trading! But nations trading together doesn't mean you have a right to live in our country, or that controlling borders is xenophobic or anti-trade, you condescending fucking cunts!
Nominated by Agent Double-O Shagga