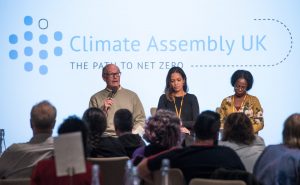 A Cunting for the concept of a Citizens' Assembly.
The one that has been set up to look at solutions to climate change is going to cost  around £500,000. 110 'Randomly' selected members of the public will spend four weekends looking at ways to reduce CO2.
The government has committed to net zero by 2050, so this lot are going to work out how to do it, such as taxing frequent flyers.
Now I don't have any objection to people having ideas, but a citizens' assembly who are unlikely to have any specific expertise aren't going to solve the problem. We all know where the CO2 comes from and where most of it is generated, so taxing frequent flyers isn't going to punch a big hole in the volume of CO2.
The answer is money and technology; everyone knows it, so we don't need to waste time with a citizens' assembly. Everyone will be taxed to fund all the changes necessary to reach the governments commitment.
At the end of the exercise we will have a report (I am sure it will be written by one or more of the organisers) with recommendations which will reflect what we already know….. so pointless.
Nominated by Sick of it