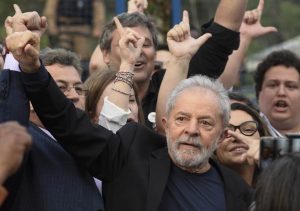 Lula
No cunters, not the old 60s cunt who sang "Shout" – admin
In case you don´t recognise the name, he´s the former Brazilian president who has just been released from prison after the corrupt supreme court altered the rules, allowing jailed politicians to walk free on a technicality. The decision has opened the floodgate and the sewer rats are being freed by the score.
This pot-bellied, slimy former union leader, who has not done an honest day´s work for about 40 years, immediately attacked the only honest judge in Brazil who sent him to the slammer and is threatening to stand in the next presidential election.
Because he´s a lefty and loved by dictators in places like Cuba, Venezuela and Bolivia, the left-wing media and politicians – including Bernie Sanders, the US version of Corbyn, and the Guardian, of course, – have hailed his release.
The lefties don´t like the current right-wing president Bolsonaro – who is an arse of the first order and makes Trump look like a statesman – but they never think that the reason the people voted for Bolsonaro was because they were sick to death of hypocrites like Lula and his mates who preach equality but exploit the poor for their own purposes.
Nominated by Mr Polly