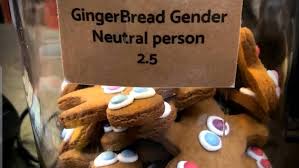 A nomination for Andre Cettina – this cunt owns The Tannery cafe in Auckland and has introduced 'gingerbread gender neutral people' biscuits. This was in response to a cunt customer who questioned why the human-shaped snacks were called 'gingerbread men' and not 'gingerbread people'. I would have just told the cunt to fuck off.
There has been a mixed reaction but some cunts think it is only right that gingerbread biscuits were given a more inclusive label in these 'gender-neutral times.'
Another cunt said "This is a conversation starter, and these issues won't be dealt with until we are open to talking about them," people getting mad about this completely miss the point of what it could achieve. It isn't 'PC gone mad,' it's an opportunity to take a good hard look at yourself and your feelings around a sensitive topic and do some real introspective work on why you feel the way you do."
It's probably been endorsed by that limp wristed snowflake prime minister Arden and no doubt will be in the UK soon.
Nominated by Mystic Maven