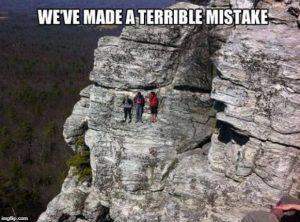 I would very much like to nominate irresponsible hill/mountain walkers.
After recently moving to the Lake District a week doesn't go by without reading of some party of twats ending up getting lost on mountains that surround the Lake District.
Usually these fucking clowns are tourists wearing the most basic hill-walking footwear; they don't bother with proper boots or thick clothing or hi-viz jackets, torches or even a flask of fucking tea! Instead they just stroll up a mountain just because its a nice clear day at ground level. They don't bother with the weather forecast, and they assume they will get a good signal for their phones.
But as soon as they get to the top they realise how quickly the weather can change; low level cloud suddenly appears and the next minute you're walking around in thick fog and totally disorientated. Moreover, temperatures can drop in minutes from being suitably warm to unbearably cold.
So typically the mountain rescue services are called out to find these fuckers, risking life and limb for their troubles. Admittedly some of these twats are humbled and grateful. But what really grates are those cunts who, once back home safe and sound, start playing the blame-game on social media; even to the point of criticising the rescue service for being so slow finding them!
This doesn't just apply to hill and mountain climbers, but twats who fuck about on rivers, lakes and seas; who end up getting into difficulty and expect to be rescued.
Irresponsible selfish thick cunts should just freeze to fucking death, the cunts!
Nominated by Technocunt