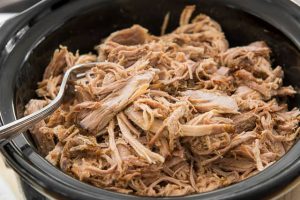 Anomination for faddish foods, or food fads.
The one that comes to mind is pulled pork, or the facsimile of it, usually shredded crust in a sugary gloop.
Pulled pork is really the Southern US version slow cooked hog roast, where the meat is gently cooked until it is less pulled and can barely hold to the bone.
There are a few others, such as lobsters with 'mac and cheese', venison and chocolate, the ubiquitous nonsense of noughties pub menus, 'hunters chicken' – not chicken chasseur – consisting a chicken breast wrapped in rashers of bacon, then smothered in cheddar and more of that rich overpowering BBQ sauce.
Probably the noughties equivalent of the more recent obsession for BBQ 'pulled' pork.
Another ingredient that became far too frequent on menus and supermarket shelves was chorizo.
As for dinky donks (Frankie Howerd), everything and everyone is drowning in Prosecco, gin and grapefruit-infused craft ale.
Perhaps worst of all is the hipster cretins having ironic 70s dinner parties.
There's nothing ironic about eating a Chicken Kiev, so fuck off.
Nominated by Cuntamus Prime