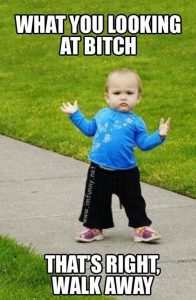 Starers. I would like to nominate staring, gawking, no manner cunts please admin.
Staring is rude.
Staring is a challenge in the animal kingdom, and also in some public houses. From a young age, I learnt to be discreet in regard to staring.
Someone badly burnt? Don't stare!
Someone mental? Don't stare!
People arguing in street? Dont stop and watch wi yer gob open catching flies, or your liable to get involved.
But lots of nosy, staring, gawking, can't-mind-yer-own-business-cunts about nowadays, rude bastards not brought up wi manners! If I'm on a country track, whip my cock out for a slash an you walk round the corner pretend you've not seen me, don't fuckin stare! If yer that interested get over here and give it a shake dry.
Nosy cunt.
Nominated by Miserable northern cunt