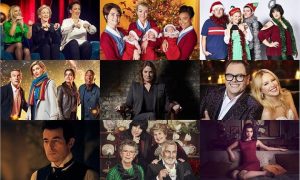 Christmas telly is a load of steaming cunt….
Once it was Eric and Ernie, Steptoe and Son, Mike Yarwood, TOTP with proper bands, Del Boy and Rodders, A Bond film, Dave Allen (RIP), Stanley Baxter and Her Majesty.
Now? Mrs Brown's Cunts, Call The (Black) Midwife, Gavin and fucking Stacey, some Femstapo CGI Disney shite, Miranda Horse Face, That Fleabag bollocks (Phoebe Waller Fucking Cunt), and Vicar of Cunting Dibley repeats. Oh, and Jools Holland and his bore-a-thon Cuntenanny….
The BBC can shove it up their fucking arse.
Nominated by Norman
The terrestrial telly offerings on Christmas Day is a total pile of cunt this year.
The prime slot here being the 7pm – 10pm slot where commercial channels try to flog us next year's holiday in every bastard ad break and the AL-BEEB try to convince us that the Snow Queen is a wheelchair bound, lesbian, black, Muslim woman!
So here it is…
ABBC1: 'Call the Midwife' Xmas Special, 'Gavin and fucking Stacy' Xmas Special, 'NeverEnders' – for a bastard hour!
ABBC2: 'Morecambe and Wise Christmas Montage', 'Celebrity (i.e. leftist cunts) University Challenge' Xmas Special, Dolly fucking Parton documentary.
ITV: An hour of 'Emmercunt', an hour of 'Cuntynation Street','Who Wants to be a Millionaire'.
CH4: 'Christmas Bake-Off', the fat-tongued cunt Jamie Oliver, 'First Dates at Christmas'.
CH5: 'Britain's Favourite Xmas Song' (two bastard hours of it), 'The Two Ronnies Montage'.
Absolutely fuck all to watch! I mean 'The Two Ronnies' and 'Morecambe and Wise' stuff is great the first 1,000 times or so, but for fuck's sake!
Apparently, the 'Call the Midwife' special is set in the Outer Hebrides. The show itself is set in the late 1950s and early 1960s, so no doubt the Outer Hebrides at that time will be jam-packed with multiculturalism, raspberries, crafty butchers, fishmongers and the local wimmenz vicar is a trans!
Utter pile of cunt!
Merry fucking Christmas!
Nominated by Rebel without a Cunt!