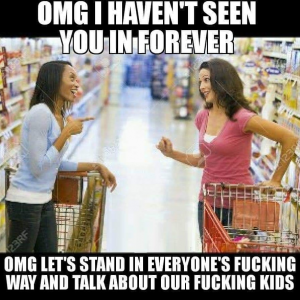 Fucking cunts to a man (and woman, and all those gender fuckwits in-between for that matter!) You'll find these cunts in shops, supermarkets, cinemas, restaurants, high streets, car parks… in fact you'll find these bastards almost anywhere in the public domain.
They're easy to spot because they just dawdle, shuffle, or just stand in the middle of whatever, and generally get in the way of everyone else who are trying to get from Place A to Place B as quickly as possible.
Of course they're usually found in supermarkets, blocking the aisles with their trolleys containing a pint of milk and a tin of dog food; if they're not blocking the aisles on their own then they're blocking the aisles chatting to another dawdling cunt, thus making it doubly-hard to get past these bastards.
But supermarket dawdlers are old hat now. Ever since the invention of the smartphone, we now have a new breed of dawdling, daydreaming cunt that you'll find on the high street. Glued to their fucking phones, they're totally oblivious to fellow pedestrians, and don't even bother to look up before crossing a busy fucking road, shuffling along while they fuck about with their phones.
Add to that car drivers taking the piss at 15 mph in a 30, or 20 in a 40, or 50 in a 70.
What the fuck is wrong with these cunts? Why can't they get a move on like everyone else and get the fuck out of the way?
Sick to death of getting stuck behind these bastards (young or old, they're all dawdling cunts). If I had my way I'd set the dogs on the bastards: that'll make them move!
Nominated by Technocunt