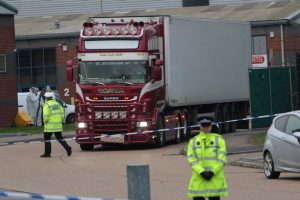 STOWAWAYS:
Am I the only cunt not shedding tears over a lorryload of dead Vietnamese asylum seekers in Essex this week?. I have to report that Sugartits and Granny Grieve are VERY worried since it ties in with their remoaning, but please:
https://www.bbc.co.uk/news/uk-england-essex-50197691
The clergy in Vietnam are shedding tears, the "people" are shedding tears – however take away the maudlin stance and it appears they (including the padre') were all in collusion with the fuckwits.
Last evening on the Wireless 4 news they explained "how poor" these cunts were – yes, so poor they could find them £30,000 each for their fare. What poor person in Britain could lay their hands on a sum of that sort in a hurry?. If some kidnapper took Mrs Boggs and demanded £30,000 for her safe return they would have to keep her – I wouldn't pay that sort of money to get her back.
These people found the money by some means and agreed to hide in the back of a lorry, or as in other cases a rubber boat, and however thick as pig shit they were they must have known they were entering into a dishonest and illegal transaction.
I might be a harsh bastard but we all know this sort of shit goes down every day. Perhaps if a few more of the bleeders perished it might make some of the devious cunts think twice about it.
Nominated by W. C. Boggs