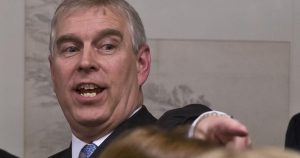 Prince Andrew is a Cunt.
He is a rude, obnoxious bore with "friends" in both high and low places. Dodgy Russian businessmen queue up to give him money, while American businessmen offer him 5 star treatment at their "homes" (without him ever realising that they were actually convicted kiddy-diddlers),because he is such good company presumably.
Andrew and Harry are the main reasons why the Royals are becoming so unpopular and if The Queen can't recognise that fact perhaps it's time that the old trout finally released her interminable grip on the taxpayer-teat,packed up her grasping extended family and Fucked Off.
Nominated by Dick de Pfeffel Foxchaser-Fiddler