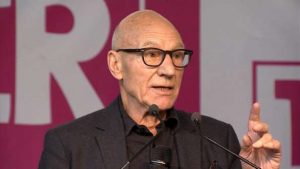 Well known B-list actor, dedicated luvvie and celebrated political expert, Sir Patrick Slaphead is at it again.
Addressing a baying crowd of Remoaners at the 'People's Rally' in (you guessed it) London, Old Baldy 'Picard' claims that Leave voters were promised 'sunlit uplands', and that we were 'mislead, lied to by the Brexit elite' etc. Translated into English, this means nothing less than you, me, and every other Leave voter is so thick that we couldn't understand what we were voting for. Of course he doesn't want to come straight out with that, thereby insulting 17.4 million voters, so he patronises us instead. It follows that we were naïve lambs, duped by that nasty Mr Farage and his ilk. It would be much better if we just trusted wise old Uncle Patrick; after all, he's much better placed to judge what's in our own best interests than we are ourselves.
Well here's the thing, Baldy. Parliament took the decision to trust the issue of deciding on EU membership to the people in a referendum, and to honour the result. The people weighed the matter up and voted to leave. Three years on, a dissembling House of Commons is still doing its utmost to frustrate that result, aided and abetted by a motley crew of allies in entertainment and media circles. Just who's lying to whom here? Seems to me that it's more a case of a misleading and lying establishment trying to frustrate the democratic process, and you're its mouthpiece.
Sorry Captain, but the Prime Directive was established three years ago, and you can't violate it now. So please get on board the USS Enterprise with as many Remoaning cunts as you can cram on with you, and get the fuck out of here in the general direction of the final frontier, warp factor eight. Make it so.
Nominated by Ron Knee