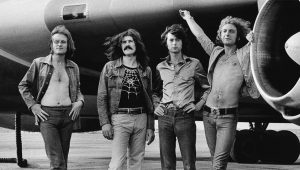 Led Zeppelin are cunts…
Nothing to do with their music. They were a great band most of the time, but the way the music media and their touchy as fuck fans canonise them as people takes the piss. Whenever Page is interviewed he is never asked about Aleister Crowley or Lori Mattix. Cunts like MOJO and Uncu(n)t just go on about how great he was. Then there's the fanbase. Every time a book or article about the band comes out with something they don't like in it, there's endless whining about 'distortion' and inaccuracy'. It's common knowledge that the likes of Page, Bonham, Grant, Cole and Bindon were authentic, deluxe cunts, Plant and Jones being the only two half decent blokes in the Zeppelin circus…but most of their fans are grovelling apologists who say crap like 'It was a different time' and 'Bonzo was a thug because of the drink'. And the way they try to explain Oakland away is hilarious.
A great band as musicians, but come off it, they were cunts.
Nominated by Norman