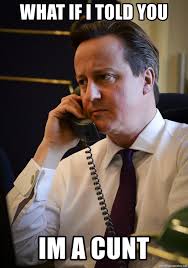 DAVID CAMERON (FAILED EX MP and PM):-
A hog roast with apple sauce and all the trimmings please for the old Pigfucker himself, who has, after all these years, finished his book (I wonder what colour crayon he used?) and prior to it's release (and don't worry you will be able to pick it up in Poundland for 50p in the post christmas sale), he has been interviewed by the BBC and other news outlets:
https://www.bbc.co.uk/news/uk-politics-49690618
It seems he thinks Boris and Gove acted "appallingly" and that Penny Mordant was "wrong" to suggest wealthy people didn't understand concerns about immigration – and after all he should know, considering he is such a pauper himself. I think he proved her point in that glib comment. The trouble with Cameron and all the other would be SJWs is that they never travel on public transport, or visit NHS premises, and probably the only "immigrants" he and his pork fetishists in Chipping (is it Norton) is the occasional upstart incomer from the Cotswolds.
Of course, he regrets the referendum, as does his snooty friends … and how dare Boris sack the mutinous cunts.
Every political career ends in failure, Dave.
Nominated by W. C. Boggs
David Cameron is deserving of a nomination. In fact, I'm nominating him for cunt of the year.
Call Me Dave has a book to flog, so he's come swinging, with attacks on Boris and Gove, and telling us all how worried he is about the UK leaving the EU. Probably shouldn't have called that referendum then, huh, Dave? You remember that don't you? The one you called after you tried to con the British public into believing you'd tried to renegotiate Britain's membership of the insidious EU? The referendum you lost, and then threw a tantrum over and resigned as PM? That referendum.
Of course, Call Me Dave only called the referendum because, arrogant toff that he is, he completely misjudged the mood of the people and didn't for one second believe that we'd vote to get out of the EU. I would love to have seen his face when he was told the news that Friday morning. "What what? The peasants have voted to leave the EU? How dare they? Mater, Mater, the damned peasants have revolted. Of course, he might have gotten a few more people on side, if he hadn't stated at the start of the 'renegotiations' that he didn't actually want to renegotiate our membership. Kind of shot himself in both feet with that statement. And let's not forget, it was Cameron's cowardice when he resigned that landed us with Treason May, the WORST PM this country has ever known.
He even called Gove a wanker which, to be fair, is true. Still, I'd rather be a wanker than a pig fucker. At least wanking is normal. As for appalling behaviour, that would be the majority of MP's, who for the past three years, have gone out of their to subvert the democratic will of the people, and are now accusing Boris of staging a coup when prorogued parliament. Clearly, none of them own a dictionary that contains the word 'hypocrite'. Especially that arrogant weasel who infests the Speaker's chair. Dave, keep your 'memoirs' and go back into obscurity. The political mess of the last three years, is YOUR fault. You arrogant, toff cunt. At least Boris is trying to do something to sort the mess out. Whether he'll succeed remains to be seen.
Nominated by Quick Draw McGraw