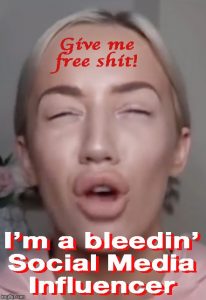 Social Meeja 'Influencers' are all complete cunts.
Akin to vloggers, these are attention seeking, vacuous little twerps with verbal diarrhoea, who film themselves talking bollocks all day, everyday.
The gist of it is they are paid by companies to try to get followers to buy their shit.
I prefer the term 'Shill' because that's what they are.
I call a spade a spade and I call a cunt a cunt.
The old adage of an empty vessel making the most noise still rings true.
I'm probably a cunt myself for looking at Spew-Tube and Kuntstagram in the first place.
The only thing they influence me to do is switch off my phone and do something more productive.
Nominated by Harold Steptoe