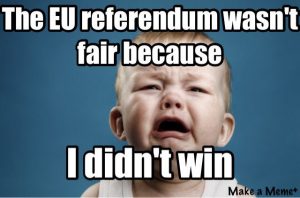 Brexit, what a cunt.
This whole subject deserves a new cunting. There are so many cunts and other tit swingers trying to stop what we voted for it's enough to make a cunt puke.
Among the biggest of these are the MP twats who represent a Leave community but still think they know better and continue to protest loudly. Take that example from Wakefield, Mr Ed "no" Balls wife herself, Yvette Cooper.
The good people of Wakefield fed up with the ever increasing invasion of Dooskhas voted to leave on no uncertain terms,. Cooperman (for it is she) decides that she knows better and they would rather see the streets and communities they grew up turned into a battleground for Eastern European drug dealers and carjackers. The Reds then hate the Asians so both groups drive around all day in old VWs and Audis spreading misery to the good working folk before arriving on time at the welfare office to sign on the dotted line for benefits.
Let's be honest, the reason most folk signed up for Brexit is because they were fed up with mass immigration hence the less wealthy areas voted to leave while the more affluent areas where the Ex Soviets cannot afford to live signed up to stay. Once we leave, if they are working then of course they can stay, if they are scrounging then they can fuck right off, we have enough native wankers here already thinking the few can support the many, why import more?
I hear that Poland etc are now a great places to live because they have exported all their criminals and scroungers to other parts of Europe.
I'm totally fed up with being called a cunt just because I hate seeing my country full of cunts who don't make any effort to contribute to the pot they so greedily grab from. I include all the British scroungers and waters in that too.
I'm all for Boris, fucking great to hear someone saying we are leaving and that's fucking that..get fucked. It's about time we had some strong leadership.
Nominated by Spanky Mc Spank