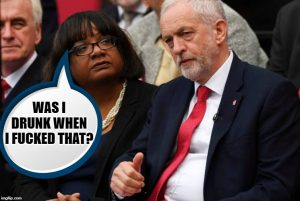 A cunting, once again, for Jeremy Corbyn.
But this cunting is specifically for Magic Grandpa's obscene squiring of Dianne Abbott back in the late 70's.
To put this in context, read the following quote from a 70's Labour weirdo quoted in Rosa Prince's biography of Compo –
"For some reason he called four or five of us and said: "Oh, we've got to go back to my flat and pick up some leaflets." It seemed a bit odd — "Why the hell didn't you bring them with you, Jeremy?" So we all bowl along to his bedsit, follow Jeremy into the room; there on the mattress on the floor is Diane with the duvet up to her neck, saying: 'What the ****'s going on?'… it was the late Seventies, it was still a point of interest, a white man with a black woman, so he was slightly showing off: "I've got a new girlfriend, and she's black.""
This reveals so much about the Labour and New Libtard mindset. A black girlfriend is no more than a trophy to show off how " right on" one is. It also shows Magic Grandpa off for exactly what he is – a virtue signalling, masquerading cunt with appalling taste in women.
Or maybe he never fancied Diane and was only interested in her as a trophy that he could show of to his lefty friends.
Answers on a postcard please.
Fuck off.
Nominated by Marvellous Mechanical Cunting Machine