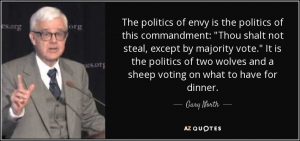 First of all, I must make a distinction between envy and jealousy. Jealousy is something we all feel at some time or other in life. We might be jealous of a neighbour's new car or the lottery win of the man down the road. We might be jealous of a fucking ugly Rory Stewart look a like who has a beautiful woman on his arm.
No, this cunting is about real envy. These are the cunts, mainly left wing libtards such as Catweazle and co. who, if they can't have it, will make sure you're not going to keep it and will try their upmost to take it away from you. I certainly wouldn't class myself as wealthy but like most IsACs, I've worked hard for what I've got and will do my best to prevent my assets falling in to the hands of failing and feckless politicians. However, like most honest, hard working people, I pay my taxes and believe in helping genuine people who, through no fault of their own are less fortunate than myself. Yes, poverty does exist in the UK but the answer is not to take punitive measures against the wealthmakers and employment providers in trying to address the problem.
Politicians are not the only group of people who display this corrosive, corrupting trait. They are ably assisted by the MSM and political commentators on tv. This is demonstrated particularly well by the reviewers on press reviews. Sad to say many of these are women such as Christina Patterson, Jenny Kleeman and Sonia Sodha. The list is endless as they are all clones of each other. Mind you, you can add in that old woman Kevin Maguire who's recently been cunted. They all rail on about social injustice but there isn't one of them who knows anything about economics. Tax the rich the cry goes up without realising this reduces growth and drives down the tax take simply because the rich have the resources to avoid tax.
Yesterday, their attention turned to the baby boomer generation who are blamed for all of today's ills. Now, I must declare an interest here as I'm one of them. Kleeman chirps up " this group have benefited more than anyone. They shouldn't be getting pensioners benefits. They've seen the price of their houses rocket up. Any money should be going to young people. On another occasion "they should be downsizing to allow young people to move in to those houses." Fuck right off. I didn't scrimp and save to buy a house back then to surrender it to these libtards. You'd think they were giving free houses away in those days when interest rates were 15%. Yes, they had it really easy then with thousands of people turned out on to the streets because they couldn't pay their mortgages.
I have been lucky, I do have sympathy with young people these days. Many people want change. Well, life has changed over recent decades. Many young people will never be able to afford a house, jobs are no longer for life, good job opportunities are scarcer and there's a good chance you'll live to 100. That's how it is, so you'll have to suck it up. But don't try to penalise others for their "good luck". We just about still have a meritocracy. Get out there, start from scratch, strive and build something for your future. But do it quickly as things are about to get worse, a lot worse, when your idol Comrade Corbyn takes charge. Fuck the politics of envy as it's crippling this country.
Nominated by Bluntspeakingcunt