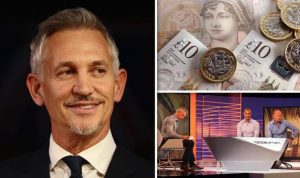 To; The Director General
BBCunts
Broadcasting House
Shepherd's Bush
Londinistan somewhere
Sir;
I was truly amazed to learn that the BBC pays the absolute non-entity that is Gary Linekunt a salary of £1.75m. per annum.
Linekunt is 'Mr Switch Over' personified; a jug-eared, boggle-eyed arsehole with all the charm and charisma of a compost bin. How on earth you can possibly justify paying out the equivalent of more than 11,000 licence fees on this bellend is beyond me. Is he part of the Beeb's 'old boy' network, or is it more the case that he brown-noses the libtard remainers that now seem to infest the organisation? Has he got the goods on some very senior executive, or are you just having a larf at the expense of many thousands of the over 75s? I think we should be told.
Oh I see; you're just paying 'the market rate' for talent ('talent'!!). Well here's a thought. I'll do 'Match of the Day' with as little screen presence, finesse, style and personality, and I'll do it for a tenth of the salary.
You can contact me at RKnee@yahoo.co.uk. I'll be waiting for your e-mail.
Yours
Ronald Knee
Nominated by Ron Knee