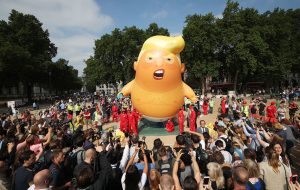 Trump protestors are a right bunch of cunts aren't they?
The president of our closest ally and potentially biggest post Brexit trade partner comes to the UK on a state visit and these fuckers start throwing their toys out of the pram.
Corbyn refuses an invitation to a state banquet even though he's prepared to sup with terrorists (hardly the behaviour we would expect of a future PM), Khan okays the use of that pathetic blimp. May refuses to let Trump invite Farage or Boris to the party.
And the worst of the lot? That stupid bitch Markle who can't decide whether to be a royal or celeb, absents herself from her husband's side because she's a Democrat (sic), and campaigned for Kilary.
And to top it all we have two – yes, two – anti Trump movements preparing widespread demonstrations to bring London to a standstill. Apparently, they aim to show that the people of this country won't tolerate Trump's brand of hatred.
Well bollocks to the lot of them, lefty scum one and all, I'm one of the people of this country and you sure as fuck don't speak for me,
Fuck off.
Nominated by Dioclese