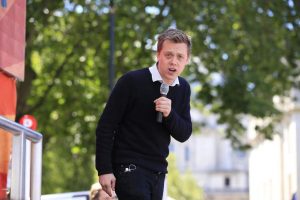 I know he's been done but every time I get a whiff of that cunt from the Guardian Owen Jones I just have to shout "CUNT!" It's like a tourettes.
What a fucking petulent, entitled, professional victim fucking, not yet shaving but shouting at the cunting world, basket of freshly picked journalistic gob-shite cunt he is.
I found a fingerless glove on the bus seat last Monday. It was navy blue with sparkly silver threads running through it and a ship's anchor on the back. I thought, that looks like the kind of fucking thing Owen Jones would wear. And I shouted "cunt!"
8.30 on the bus into town. That's the kind of cunt he is.
Nominated by Kirklees Cunter