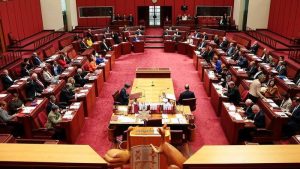 Australia is set to introduce new laws that could imprison social media executives if they allow violence to be streamed on their platforms, following the New Zealand terror attack. The bills have been proposed in response to the 15 March mosque attacks in Christchurch, which were live streamed on Facebook.
Abhorrent violent material is defined as acts of terrorism, murder, attempted murder, torture, rape and kidnapping.
Oh good. How thoughtful of the Australian government. Except such legislation is about 10 years too late. Type "beheading" into Google and click on "Videos" and you'll see all the delightful postings of Islamic fundamentalists, still there several years after being posted. But that stuff didn't happen on the antipodean doorstep did it? No snowflakes were traumatised until the attack on the New Zealand mosque, so it is only now that legislation is required.
The attack on the mosque was a tragedy. The hypocrisy stinks nonetheless.
Nominated by Sgt Maj Cunt