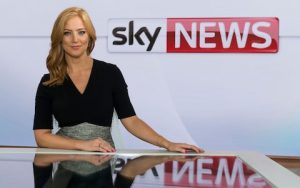 I reckon that Sky News deserves a cunting.
Today (13 April 2019) it put out a story concerning the tragic death of a ten-year-old at a caravan park in Looe, Cornwall. The boy could not be saved by emergency services after being attacked by 'a bulldog-type breed' of dog. The report then stated that a woman had been charged on suspicion of manslaughter and having a dog dangerously out of control.
So far, so sad, I'm sure you'll all agree. But then, what do the geniuses at Sky do by way of concluding their report? Why, they only give what amounts to a crass and tasteless plug for the park in question.
'Tencreek Holiday Park', the report informs us, 'hires out static caravans to holiday makers, and also has pitches for tents and motor homes. Facilities include an indoor swimming pool, sports pitch, kids' club and restaurant'.
Well thanks for that, Sky. You make it sound like the perfect destination to head for next time I'm thinking of getting one of the grandkids savaged by an out of control dog.
Your cringeworthy attention to detail on the subject of the park's excellent facilities will no doubt also be of great comfort to the bereaved family.
Thoughtless twats.
Nominated by Ron Knee