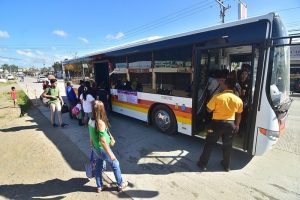 Replacement Bus services are cunts, aren't they.
◾
Careers Officer:What do you want to be when you grow up, Graham?
cuntrag: I want to be a Replacement Bus Driver.
Careers Officer: Goodness, why?
cuntrag: Well, because I'm an angry, premature-balding oaf, unconcerned by conscientious work and awkward in social situations. Moreover, because I'm an indolent, overweight moron I'm going to fail all my exams further adding to my hatred of people despite their purchasing of a valid ticket.
Careers Officer: But, do you want to work unsociable hours, late into the night as well as at the weekend?
cuntrag: Certainly not but this, ironically, will enlarge the chip on my shoulder.
Careers Officer: You'll have to become an expert driver to safely transport all those travellers who've been terribly inconvenienced.
cuntrag: Any decent, qualified driver would gain a prestigious, well-compensated driving position. I aim to fill the bus with a toxic diesel smell then change gears as much as possible whilst not turning on the heating system in Winter and blasting it out in Summer. I also intend to drive past replacement bus stops without stopping and, when challenged, reply that they hadn't rung the bell.
Careers Officer: Well, you're hideously obese, you smell like you haven't wiped, and you sound like a contemptible, bloody-minded, bitter cunt. It's the dream job.
Nominated by Captain Magnanimous