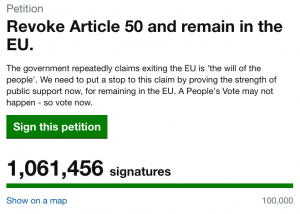 *EMERGENCY CUNTING* – The "Cancel Brexit" petition.
No. 1 "Most read" article on the BBC news website (which, given the shameless promotion of their own programmes in this list should be taken with a pinch of salt. Yes Victoria Derbyshite, I'm looking at you).
"'Cancel Brexit' petition passes 1m signatures on Parliament site", thunders the headline.
Wow! 1 million!!
Only 16,410,743 more votes until you PASS THE NUMBER OF LEAVE VOTES IN THE ACTUAL FUCKING REFERENDUM.
To coin a phrase of a distinguished member of this parish:
Fuck off.
Nominated by Thirkleby Spunktrumpet
Loadsa fucking publicity about the e-petition to cancel Brexit. Not a fucking word about the one I signed back in January to leave with no deal.
Balanced coverage isn't it? What else did you expect?
Fuck 'em and the ship they sail in…
Nominated by Dioclese