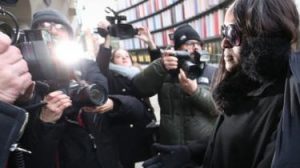 FIONA ONASANYA (Sort of) M.P.
A Prisoner Cell Block H, all girls together, les-be-friends, Oh Dem Golden Slippers cunting please for this oily heap of excrement, who should still be in jail for perverting the course of justice, had it not been for the fact that she was released last week after serving just 3 weeks of a 3 month sentence, but who donned her obligatory sunglasses on one of the dullest days of the year to travel to Westminster last night to vote against the Brexit bill. Give dat girl a KFC bargain bucket and a banjo.
Everything about this trollop is fake. She pretends to be an "Independent" but is still in thrall to the Labour party and Dame Keir – she certainly followed his orders last night.
This jailbird ought to be in prison still, certainly her vote last night should be declared null and void, and if thefre was even a shred of decency amongst the political class she should be banned from parliament, until her constituents have the sense to kick her out which lets face we all know they will do.
It would be worth having an election immediately to flush this turd down the crapper. What a gold plated cunt.
Nominated by W. C. Boggs
Link:
https://www.bbc.co.uk/news/uk-england-cambridgeshire-47548406