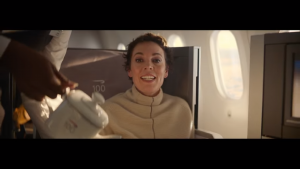 Oh dear me, not to be left out, BA's latest advert to woo would be travellers is a rocket fuelled pile of virtue signalling cunt that still has the power to make me want to self harm with a rusty nail, despite the fact I must have seen it 50 times.
Gillette, fuck you, you've lost the race.
The message is 'we love you Britain' but, in truth, it is a rocket-fuelled wankathon of so called diversity and equality. Among those featured are the black lesbian boxer, the dwarf female swimmer, a pair of woofters and the cuntess of our times, Olivia fucking Colman.
An advert full of cunts for an absolute cunt of a company; an airline that has gone from being the pride of Britain to a poor man's Ryanair in less than a decade. A cynical shower of shit that regularly double books flights and treats customers like dog dirt. Woe betide those who can't check in online in the ridiculous 24 hour slot before flying; basically you are fucked as someone will get your seat, despite your actual booking of the flight.
BA is not even as good as Easyjet so should stick its new celebration of British diversity up its bloated, overrated arse crack.
Cunts to a man, with the cuntiest advert of modern times. Fuck off.
Nominated by CuntyMcCuntface