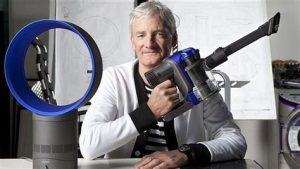 "Sir" James Dyson
It's about time this cunt was stripped of his knighthood. Actually, it's about time he was smeared with honey and padlocked to a fire-ant nest.
He moved the production of Hoovers (I know that's a trademark but I'm sure it would piss him off to think people refer to his overpriced vacuum cleaners like this) to Malaysia in 2002 and offshored his washing machine manufacturing the following year.
Although he is pro-Brexit, he really isn't helping by giving Remoaners ammo like this. If you're that confident in Britain, you should put your (considerable) money where your (considerable) mouth is – repatriate all the manufacturing and leave the HQ here.
You are a cunt sunshine.
Nominated by Thirkleby Spunktrumpet