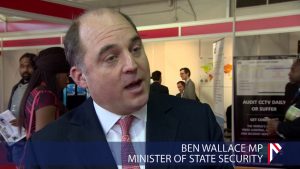 Another day, another cunt. Ben Wallace, security cunt.
Wally today says 'A no deal Brexit will cause a security risk to the UK'. How will it Ben? 'Because we can't cooperate with Europe'. Wait, what Ben? If we don't have a 'deal' we can't speak to Europe about criminals no more?
What the fuck……..do they……. I'm lost for words. He goes on to spew verbal diarrhoea about the necessity of cross border security, I say fuck what any other EU country does at their border, and concentrate on our own. Surely this could mean more border control and police officer jobs for British people? I don't know if he realises through all his bullshit spreading, but what he's actually saying is 'we don't spend enough money on security in this country'.
Wally you've quickly climbed the ladder of cunts for me. There's going to be the secretary for every department on the cunt list soon though, prepare for education, transport etc. To have their own time in the cunt light, when they say no deal is bad for this or bad for that. I just hope those people who voted leave aren't brainwashed by twats like Wally and Treason May, thinking all this is legit.
Nominated by elboobio