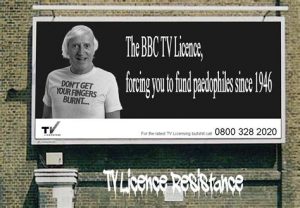 Tv tax is a cunt.
Like all cunters, I fucking despise the bbc…
I hate their propaganda, I hate their lefty racism (positive discrimination) and I hate their elitist metropolitan bubble idiocy.
I hate their lies and their smearing of anyone that disagrees with their stupid opinions but most of all I hate the fucking bullying thievery of the tv licence.
Why the fuck should I be forced to pay to feed the propaganda machine who's sole aim is to wipe my culture, country and probably also my race from the face of the planet?
Why should I have to pay for tv channels that I never watch?
I pay Sky for my tv.
I don't watch the movie channels. I don't pay for the movie channels.
I don't watch the sport channels. I don't have to pay for the sports channels.
So why the fuck do I have to pay for the fucking BBC?
I just moved into a new house. The very first thing I received as I walked through the door was a threatening letter from the ministry of propaganda informing me that they're sending heavies round to inspect my property and issue me with a £1000 fine if I have a tv, tablet or computer.
If you need any evidence of the true authoritarian, bullying face of the leftist regime just look at the tv licencing cunts.
As most end up doing, I thought "well there's nothing I can do, I guess I'll just have to pay the cunts" so I went online to set up my direct debit….
TWENTY SIX POUNDS A FUCKING MONTH!!!
Thieving cunts…
It's about time the tv tax was abolished. I'm on a tight budget and I don't see why I have to pay these leftist cunts money that I can barely afford for services that I don't fucking want.
It's stealing. It's corruption. It's utter cuntitude and it boils my piss.
Nominated by Deploy the Sausage (and seconded by everyone)