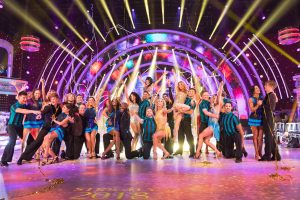 Twats in sequined shirts and tackle nipping trousers twirling birds with sprayed on faces around a dancefloor, while a panel of d-listers and a clap at anything audience of sheeples look on. That's 'Strictly Cunts Prancing' for you, and you'll have seen it at some point. It's another of those hopeless 'talent' fodder shows which infest weekend telly schedules, and I'll occasionally look in on it as a comparable alternative to my regular Saturday night pastime of self-flagellation.
In all honestly I wouldn't mind 'SCP' if it confined itself to the box. My problem with it is that it's spread across the meeja like one of those nasty little rashes you're stuck with but would rather not have. Most of the spiel comes not so much from the programme itself, but from the irritating antics of the wannabe and never-will-be cunts who take part. The meeja and the Twatterati have been in meltdown of late over the antics of 32-year-old Seann and 29-year-old Katya, who *gasp* were photographed snogging outside a pub. Seann's girlfriend Rebecca publicly elbowed the lad, claiming that he referred to her as 'psycho' for suggesting that something untoward was going on. This blockbuster story continued when in a follow-up routine, Seann and Katya danced with a guitar between them, which led to fans claiming that *gulp* show bosses wanted to keep the pair apart during the routine. They subsequently finished in the bottom two, but *gasp* survived the dance-off. This led 29-year-old reject Vicky to *shock* hint at a 'fix' to keep the pair in as a ratings and publicity booster. Noooooo… Al-beebra would never indulge in such machinations, surely??
Now some might of course accuse me of hypocritically indulging a pathetic interest in these goings-on myself. In my defence, I'll state that my fascination stems not so much from the 'events' themselves, but from genuine puzzlement as to how the whole vacuous shebang is able to exert such a hold on the interest of so many for so long. It's not 'fake news' as such, more like 'none news', yet it's lapped up. I just don't get it, but it'll no doubt run and run, even though it's a bag o' shite.
Rebecca Humphries is 32.
Nominated by Ron Knee