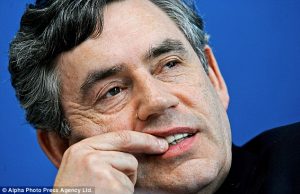 Gordon Brown is a cunt. This sweaty sock who flogged off all the UK's gold at rock bottom prices wants a Royal Commission into Brexit. It's terms of reference would be "to listen to the voices of the British people".
Royal Commissions are not noted for the alacrity of their proceedings and the only thing in the world wider than the proposed terms of reference is Eddie Izzard's butt crack. No need to worry about the findings of such a Commission because the Sun will be extinguished and the Earth a ball of lifeless rock by the time it finishes.
So, Mr G Brown, here is the voice of one British person – fuck off you loser and do the world a favour by expiring.
Nominated by Fimbriations