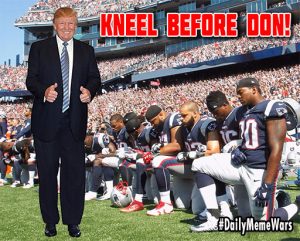 A call-to-arms cunting of this ongoing debacle, all started by choice cunt and attention-hungry shitheel NFLer Colin Kaepernick. He became internationally famous for disobeying the NFL tradition of standing for the US anthem pre-match, and instead 'taking the knee' – or as I like to call it, 'kneegroism' – due to Colin's claim that black players do not feel compelled to observe the anthem in a country where his creed are supposedly still brutally oppressed.
Irony of a multi-millionaire black guy made rich by the white man's capitalism aside, let's clarify a few things:
1) American Football is a cunt
2) Having to endure the Star-Spangled Banner during EVERY match is a cunt
3) The imported commercialism of the Superbowl is a cunt
The reason Colin makes the piss boil is because he has done this blatantly to compensate for the fact he is quite shit at NFL, and now moans racism be stopping him getting a new contract after being dropped and not signed by sny of the NFL teams. Thanks to him, amgry fans all over the US now have to endure endless shows of Kneegroism from fellow blacks who love a good whinge about ancient slavery and the like.
But just when you thought there were already too many shit-cooks fucking up this particularly well-simmered cunt-broth, in wades Nike to make Colin one of their commercial figureheads. Nike, supporters of the oppressed and purveyors of social justice, clearly forgetting that despite such a noble and moralistic crusade, they themselves pay Asian women the equivalent of 2p per day in sweatshops to manufacture their overpriced fabric shite.
Cunts one and all. Some might think 'negro' is offensive. Hopefully 'Kneegro' won't bother anyone.
Nominated by The Empire Cunts Back